Out with the Old(er), Into a Newer Space: Seniors on the Move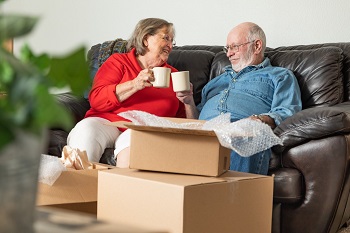 By Julie DeLong, A-1 Freeman Moving Group
America is a society on the go: over thirty-two million people moved to a new abode in 2018; that amount consists of approximately 10% of the entire population. Seniors moving to new houses consist of a small nevertheless important part of people packing up and beginning again inside new communities. A move to Little Rock is often a period of both excitement as well as stress regardless of family size and circumstances yet changing locations can present special difficulties for more mature men and women.
Eight suggestions for a stress-less senior moving experience
Begin planning well in advance of moving day
Numerous factors go towards the evaluation of when and where to move: health, the need for a change of scenery or sort of housing, cost of living, the capacity to travel or the want to be closer (or perhaps a greater distance away from) relatives as well as acquaintances. The choice of a new home includes access to retail stores, medical clinics, transportation, recreation, and cultural facilities. Research places of interest. Take a look at current weather patterns, facilities, local government, as well as public amenities within the selection. Many community newspapers are on the internet, and it is beneficial reading a few days' worth to acquire a feeling of day to day life in the potential new hometown.
Advise members of the family of the choice
Keep family updated on the preparing of the move. Their engagement helps relieve the strain along with their suggestions, particularly from those that have moving experience, can be important to steer clear of expensive as well as unnecessary issues.
Prioritize what the new community needs to meet your needs
Review your current neighborhood to those being considered. What do you like about where you live at this moment? What must have improvement? Subsequently make a pro vs. con list. Are there elements you really like so much that you would spend extra to have them? Are there things you simply are not able to accept, irrespective of how much you like whatever else regarding the place? There is not a perfect place, but many are great; the bottom line is choosing the one which balances best along with your senior lifestyle.
Get to know the new community with a visit and/or rental initially
Prior to deciding to invest your money into a house or residence or pay two months' security deposit, consider a short-term rental, a vacation or stay close by with friends or family and do a trial run of a new local community. Stay awhile, stroll, go shopping, eat, and meet the people, learn the social norms as well as local politics, and learn what it really costs to reside there.
Declutter, give away, recycle, sell
You have made the conclusion to move ahead, now purge prior to when you pack up. Declutter and donate, sell off, or recycle what you don't require, want, or will not fit in the new abode. Just by doing this, your professional moving company in Little Rock should have less to move, that will lower your overall cost to move.
Fix it, clean it, paint it, or accept it: maintenance vs. remodeling
Make decisions about what to fix or replace as you get your old home ready to market or prepare to vacate your apartment. Easy fixes are usually undertakings like holes from the paintings about the wall surfaces ought to be filled in, scratched wall space painted, baseboards wiped clean, the fridge washed, as well as the range scoured. Major remodeling could lead to a higher resale on your residence, but some remodels could backfire should they be outdated by contemporary purchasers' standards or so expensive you won't ever recover the expense.
Self-pack vs assistance to pack: lifting, loading, and letting another person to do it
Recognize your boundaries and keep your lists handy. Getting wounded whilst packing up isn't a way to start a fresh life. The lists will allow you to recall the quantity of boxes you have and what is filled in every one, so that you will not place pans and pots inside the laundry room upon arriving at your new home. Honor your body's potential to work a lot of hours moving and labeling a multitude of boxes and permit yourself the assistance of a professional moving company in Little Rock.
The function of the professional movers
Being a professional residential mover, A-1 Freeman Moving Group in Little Rock is here to aid you in getting from where you are to where you want to be, in a safe manner and smoothly. Our company specializes in the senior citizen moving experience and our just about half-century in the field assures that whatever move you're making, whether it's to a smaller house, retirement neighborhood or even an international venue will comprise of attentive packing and unloading, delivery tracking, home furnishings and also appliance installation, as well as safeguard of floor surfaces, walls, banisters, and pieces of furniture. Give us a call for a free of charge quote and we'll move you along the road to your future new residence.
Request a free quote